Automated CNC machining cell model BOX CNC
Automated CNC machining cell model BOX CNC
Automated CNC machining cell BOX CNC is a closed module, cooperating with the raw parts and finished products.
The stand eliminates the need for machine monitoring and manual loading of parts, allows you to move employees to other production processes and increases work safety within CNC machines.
BOX CNC is effective support for your production.
Main applications of BOX CNC are: CNC machining centers, lathes, milling machines and hydraulic presses.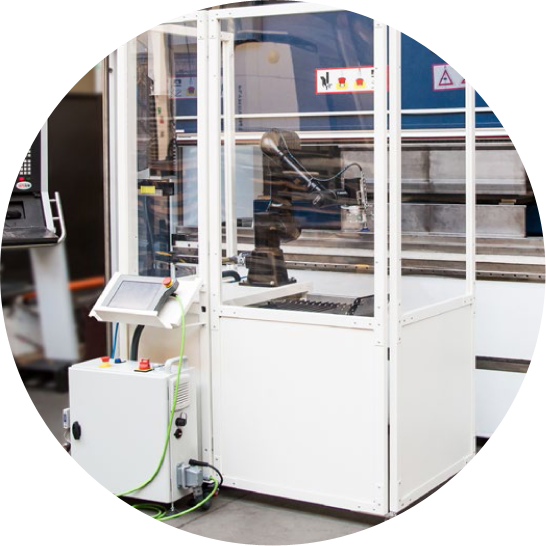 | | |
| --- | --- |
| Description | |
The construction of an automated CNC machining cell consists of a rack with drawers, which is used for storing raw parts to be processed and ready-made components.
The operator places a set of parts to be processed in a drawer. The drawer is universal and can be equipped with various inserts depending on the size of the part. The inserts are interchangeable, so you can fill in details without having to stop the robot.
The automated CNC machinig cell consists of: 4 drawers with guideways, replaceable drawer inserts, transport wheels with a lock, a casing set, a worktop, bolts for pulling out drawers.
| | |
| --- | --- |
| Advantages | |

  Mobility of the station and compact structure
Wheels of the BOX CNC enables the mobility of the set to be combined with the machine tool.
The 6-axis manipulator located above the drawer magazine minimizes the required work area.


  2 in 1: warehouse for raw parts and finished products
Drawers can be pulled out from both sides, so you can refill them without stopping the robot. Replaceable dedicated inserts allow for quick retooling to other details.


  Shorter processing times
The universal connector enables the use of grippers for various applications. It is possible to mount a 3-jaw chuck and a 2-jaw chuck at the same time. This solution maximally speeds up the process of receiving and loading details, which translates directly into an increase in production efficiency.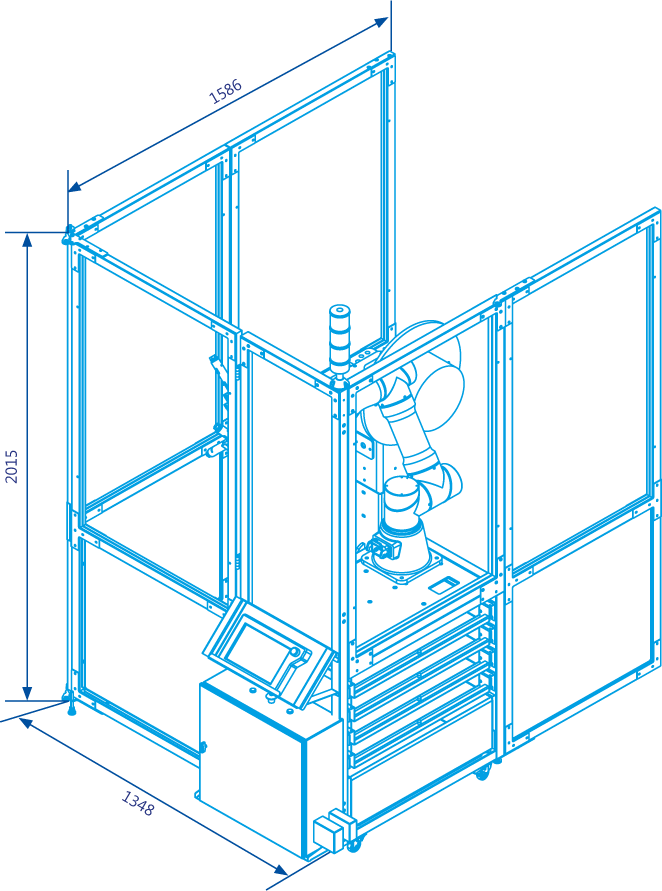 signal tower for operating states
osłony z bezbarwnego
PMMA zapewniają
doskonałą widoczność
6-axis manipulator with universal connector
4 drawer magazines with dedicated inserts, facilitating the positioning of details
security bolt against undesirable opening of the drawer
EQUIPMENT
FUNCTIONALITIES
BENEFITS
A SET OF 4 DRAWERSWITH INSERTS
The drawers are covered with a casing and each of them contains a set of parts for processing, from a dozen to several dozen pieces, depending on the design of the insert.
Konstrukcja magazynu BOX CNC ES5 umożliwia wysuwanie szuflad w dwóch kierunkach co pozwala operatorowi na łatwy załadunek detali i odbiór gotowych elementów bez konieczności zatrzymania i wchodzenia w strefę pracy robota.
CONTINUITY OF LABELS AND STOP EXIMINATION
Depending on the size of the part, the automated CNC machining cell provides raw material for work up to several hours.
EXCHANGEABLE DRAWER INSERTS
Drawer inserts and partitions are used for the correct arrangement of the parts to be processed.
They can have many designs and hold from a dozen to several dozen parts.
FLEXIBILITY AND DIVERSITY OF PRODUCTION
The automated CNC machining cell is ideal for a small-scale volume production and special production.
TRANSPORT WHEELS WITH STOP LOCK
They allow to move the entire set to other machining centers.
MOBILITY
Mobility allows for optimal use of machines when we have a multi-stage process of processing short series.
CASING
A casing set made of a transparent PMM provides excellent visibility of the robot's working environment, regardless of the machine at which it works. Safety barriers that are part of the security system are equipped with a tower that signals the working states of the cell, and the hinges which allow for the regulation, or opening of a safe zone.
SECURITY
Work safety in automated CNC handling.
WORKTOP
The worktop is used to mount the robot's arm.
SPACE SAVING
The arm mounted above the drawers minimizes the required work area.
BOLT FOR OPENING AND CLOSING OF THE DRAWERS
The bolts allow the robot to pull out and push in the drawers.
AUTOMATION OF PRODUCTION PROCESS