Automating the bending process in Supron 3
Modernization of the work station at the hydraulic press: the rolling and bending process at Supron 3.
The manufacturing company Supron 3 is a leading manufacturer of fire protection equipment: internal hydrants, protective cabinets, fire hoses and personal fireman's outfit. Thanks to tradition dating back to 1992 and a great variety of products, it has a high reputation among customers on the domestic market.
SUPRON 3
ul. Sadownicza 6, 26-600 RADOM
tel. 48 363 99 66, tel./fax 48 363 21 85
e-mail: supron@supron.pl
The main goal was to modernize the work on the hydraulic press, which is used in the process of bending elements for cabinets, hinges and other elements of metal accessories.
SOLUTION
Easy Robots programmers and constructors have analyzed the production processes at Supron 3 and recommended the launch of the improvement project.
storage for several hundred semi-finished products
double-sided drawers
profiled trays
As a result of the work, a box with a storage container for several hundred components, which are processed, has been created. We placed the ES5 robot frame above the drawer storeroom, which made it possible to reduce the required working space. Four drawers, equipped with profiled trays, allow you to quickly supplement raw details by employees. This process does not require to stop the work of either the robot or the machine. In addition, the employee does not have to supervise the operation of these devices until it is necessary to refill trays with components.
2 applications 4 profile designs
rolling process and a right angle bending
In the project, there were to applications for 4 different profile designs developed. The first application is rolling, and the second one is double bending at 90 degrees.
The rolling process
The trays from which the robot collects the profiles for rolling can be used for all 4 patterns of profiles that are made on the press. The ES5 manipulator pulls the drawers out and takes the element for processing out of the tray and then places it on the press brake matrix. Once finished, it is then automatically dropped by the gripper onto the conveyor. The rolling process
The bending process
W procesie gięcia pod kątem prostym blaszki już zrolowane pobierane są z szuflad, a następnie podawane do narzędzia prasy krawędziowej. Gięcie składa się z dwóch procedur po czym robot odbiera gotowy detal z maszyny i umieszcza go przenośnik.
RESULTS
INCREASE IN SAFETY
Robotic bending changed the current work model. Automation allows employees to concentrate on important tasks instead of routine activities that can be burdened with errors and even dangerous with the passage of change and increasing operator fatigue.
ONGOING WORK
Nie tylko skrócił się czasu realizacji pojedynczego procesu, ale także tace na detale zastosowane w magazynie szufladowym zapewniły ciągłość pracy.
NIECAŁE 35 SEKUND NA PEŁEN PROCES
Mimo, że zwiększenie produktywności nie było priorytetem w tym projekcie,  udało się podwyższyć również ten wskaźnik. Średnia wypadkowa norma dla pracownika w procesie rolowania wynosiła dotychczas 45 sekund na jeden pełen proces, od surowego detalu do gotowego. Robotowi zajmuje to obecnie niecałe 35 sekund.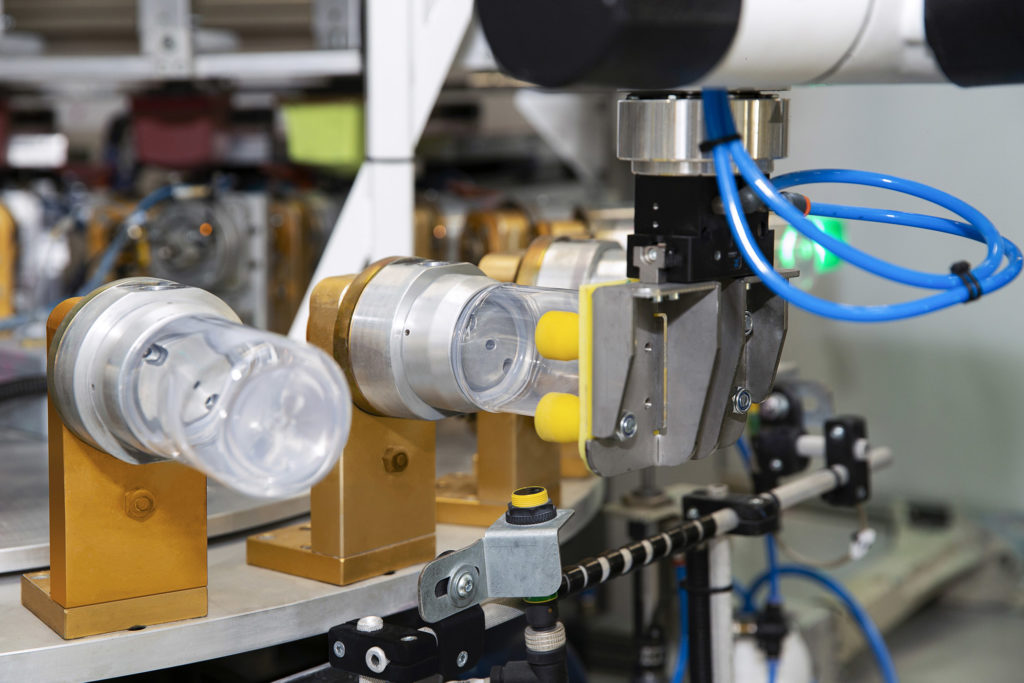 Zrobotyzowana linia do obsługi maszyny tampodrukowej w firmie CANPOLZrobotyzowana linia do obsługi maszyny tampodrukowej jest przykładem rozwiązania dla branży spożywczej z wykorzystaniem systemu...